Announcements & Upcoming Events
The tournament is planned to take place on Saturday, May 16, 2020, from 10:00am-6:00pm (dates subject to change) at Eden Street Park and consists of a series of 3-on-3 games. The participants will also attend a mandatory pre-tournament dinner and community building activity the night before, Friday, May 15th, from 6:00pm-8:00pm at First Church in Charlestown. This tournament is open to all middle and high school aged youth who live in Charlestown. For now, we are encouraging youth to sign-up and ask that you help spread the word.
Click here
 for more information about the upcoming tournament.
To see a video recap of last year's tournament, 
click here.
---
"Big Brothers Big Sisters of Massachusetts Bay is thrilled to partner with MGH and the Charlestown Coalition to ignite the potential of youth in Charlestown. By matching youth with an adult connected in their own community, we believe these young people will develop the critical youth development skills needed to reach their fullest potential through these one to one relationships." – Nora Leary, Chief Service Delivery Officer at Big Brothers Big Sisters of Massachusetts Bay
Download Flyer PDF
---
Steering Committee
Upcoming Steering Committe Meetings:
April 28th from 12-1:30PM
June 30th from 12-1:30PM
Meetings are held at the performance center at the BGCB.
---
Charlestown Coalition in the News
Each month, we publish The Coalition News, an online newsletter filled with community news articles, details on upcoming events, and regular features such as Voices of Recovery and Turn It Around: Youth of the Month. Check out this month's issue, and sign up to have it delivered right to your inbox!
2018 LOVE YOUR BLOCK AWARD WINNERS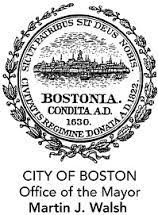 BOSTON - Friday, March 16, 2018 - Mayor Martin J. Walsh today announced the winners of the 2018 Love Your Block mini-grants, a program that awards funds to neighborhoods throughout Boston for beautification projects, highlighting the people and culture in Boston's neighborhoods. Out of the 60 applications, five winners were chosen to receive funding of up to $3,000. Read more here!
---