You're invited to our 5th Annual Turn It Around Basketball Tournament! Please come and help support the youth of Charlestown. Enjoy the food, fun, raffles, and of course cheering on our youth during a series of 3-on-3 games.
Click on the links below to register or RSVP:
---
SMART CHOICES of Charlestown
Apply for the 2019 Grant Cycle
Program Overview:
Established in 1992, the Smart Choices Program is designed to strengthen the capacity of agencies located in Charlestown to meet the health and human service needs of the community. Over $4.5 million dollars has been invested in the community since its inception.
The goal of Smart Choices is to help community based organizations address the health priorities of the community and to work together to increase their impact and reach.
Application Deadline: 12pm, Noon of Friday, May 24, 2019
Award Amount: One year grants up to $25,000 have been awarded annually. The Total amount to be allocated in 2019 is up to $180,000.
Funding period: July 2019 - May 2020
Questions: Amanda Ayers, Director, Investments in Health
AAyers@hria.org or 617-279-2261
Funding for 1 year will be awarded to organizations:
Serving the Charlestown community
Delivering programming that is responsive to the needs of the community
That provide outreach to hard to engage populations
Or groups of applicants who believe they can make a positive impact on youth and families
Additional consideration will be given to those proposals that address one or more of the health priorities outlined in the 2015 & 2016 Community Health needs Assessment Reports & Implementation Plans. Please find the assessments at: https://www.massgeneral.org/cchi/assessments/

Begin by opening and reading guidelines in the Application Materials (On PAGE 2 is a link to the application login.)
Application Materials
---
Steering Committee
Upcoming Steering Committe Meetings:
April 30th from 12-1:30PM
Meetings are held at the performance center at the BGCB.
---
Charlestown Coalition in the News
2018 LOVE YOUR BLOCK AWARD WINNERS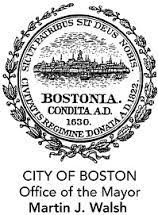 BOSTON - Friday, March 16, 2018 - Mayor Martin J. Walsh today announced the winners of the 2018 Love Your Block mini-grants, a program that awards funds to neighborhoods throughout Boston for beautification projects, highlighting the people and culture in Boston's neighborhoods. Out of the 60 applications, five winners were chosen to receive funding of up to $3,000. Read more here!
---
Each month, we publish The Coalition News, an online newsletter filled with community news articles, details on upcoming events, and regular features such as Voices of Recovery and Turn It Around: Youth of the Month. Check out this month's issue, and sign up to have it delivered right to your inbox!